Every year about this time, women panic, trying to think of a great Valentine's Day gift for their favorite man. It's hard to find a gift that expresses your love that he will actually like! Relax, we've got you covered with these romantic gifts that he actually wants!

Hot Air Balloon Ride: Take Your Love to the Skies!
Take your love to new heights when you experience the romance and tranquility of a hot air balloon ride
! You'll both remember this romantic ride forever.
Hot air ballooning is all about feeling as free as the wind. Leave your cares behind – the calming effect you'll experience in a hot air balloon seems to put the world below into perspective.
After landing, you'll receive an award and enjoy a champagne toast. Perfect for both the adventurous couple and those who just want to relax and enjoy the scenery.
Hot air balloon rides and other exciting experiental gifts are available from Cloud 9 Living
.
Timeless Love Watch Expresses Your Eternal Devotion
He'll wear your undying love always with this distinctive romantic watch
! He'll appreciate the handcrafted workmanship in this stainless steel and diamond timepiece.
What makes this the ultimate Valentine's Day gift is that it eloquently expresses your true feelings for him with this loving sentiment that is etched on the back:
"For the memories of yesterday, For the happiness of today, For the promise of tomorrow. I love you"
Timeless Love Watch is available exclusively from The Bradford Exchange Online
.
Cristal Champagne & Caviar: Celebrate Your Exquisite Taste
Obviously, you've got exquisite taste in men! Now spend an evening together, celebrating with a Cristal Champagne & Caviar Gift
special enough to reflect your love.
Delight in the finest Cristal Champagne and 2 oz of delectable, sustainably harvested Osetra caviar, packed fresh and guaranteed. Included in this stunning gift box is a mother-of-pearl spoon and caviar palette for elegant serving with the included creme fraiche and handmade Russian blini.
Reserve your romantic champagne gift basket at GiftTree
.
Spoil Him with Silk Boxers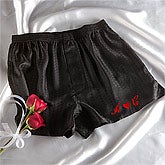 Start your evening of romance off in style! He'll love the way these handsome silk boxers
feel against his skin.
Add extra romance to the occasion by embroidering your names or initials entertwined with a heart.
Embroidered silk boxers are available in several styles from PersonalizationMall.com
Valentine's Day Cufflinks: Wear Your Heart on Your Sleeves
Perfect for the man who wears his heart on his sleeves! These handsome
Sterling Heart Cufflinks
– in stunning Valentine red – will brighten even the most somber outfit.
Want something a little more personal? These cufflinks can be engraved on the back with a special message of up to 8 characters.
CuffLinks.com
has an amazing selection of cufflinks that are perfect for Valentine's Day.